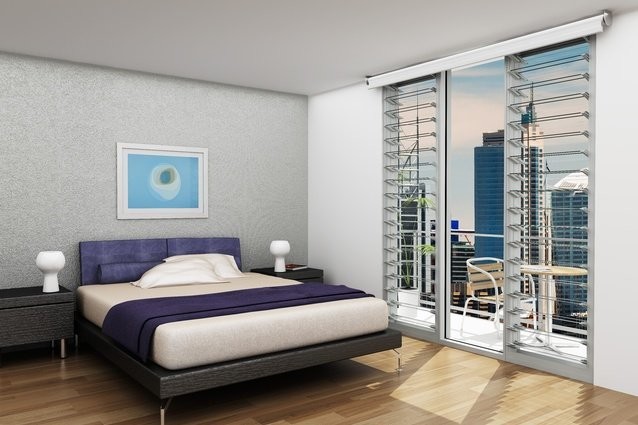 Aluminium Louvre Windows: The Must Have Window of 2020
Louvre windows (also known as Jalousie windows) are an often-overlooked window style because their true nature is frequently misunderstood. Some have thought louvre window options are only fit for commercial building use, others imagine them to be difficult to clean and maintain, and then there are those who assume they won't work with fly screens.
The reality is, each of these is simply untrue. In fact, louvre windows offer significant aesthetic and practical benefits to residences and are the perfect windows for everything from outdoor sun porches to throughout a home.History of Louvre Windows
Louvre windows were invented way back in Medieval Europe because the large manor kitchens at the time required ventilation; louvre windows offered the perfect combination of airflow and privacy.
Initial versions were fabricated from a wood or clay box that rested on top of a shaft in the ceiling. Each side of the box had rows of wooden slats, the main defining feature of louvre windows. The wooden slats would allow heat from the kitchen to escape, keep rain and snow out. Louvre windows proved to be an excellent insulator, no matter the weather.
It was during the 1930's that Aalto, a Finnish architect started incorporating louvre windows extensively in his designs and the idea caught on.
Advantages of Louvre Windows
Aluminium louvre windows are packed with advantages. Nowadays, louvre windows are mostly fashioned using glass, aluminium, or timber slats. There are many advantages of louvre windows.
Louvre windows can also give excellent control over the level of light allowance within a space. Glass slatted jalousie windows with durable aluminium framing are designed to deflect light and limit glare; they best serve hot, tropical climates with superior level ventilation when cool breezes are a must.
As far as maintenance goes, louvre windows are unique in that you can clean the outside of the window surface from inside your house! What's more, new tools make cleaning louvres far easier than most other window types.
In terms of security, louvre windows can accommodate flyscreens and security screens with no issues.
In addition to being aesthetically pleasing and versatile, jalousie windows are also eco-friendly and energy efficient.
Not only are they able to open up completely and offer you unrestricted airflow, their adjustable blades also mean you can easily control the airflow while keeping the elements out. Designed for easy cleaning and smooth operation, they really are an excellent choice.
In hot climates, louvres come into their own. You can angle louvre window blades towards the ceiling and direct cool air upwards, reducing an enclosed area's overall temperature.
Place a set of louvre windows higher up to allow warm air to escape, or put a set lower to allow cool air in. Louvres are largely how people air-conditioned their homes in the 50's and 60's before modern air conditioning systems.
Aluminium louvre frames come in a variety of colours, and are not only a structurally smart choice, but add a unique statement of style.
Certainly, aluminium louvre windows are one of the most energy efficient window types you can get.
Fully customisable to suit your space, these windows are great for privacy at home, or in in a commercial context.
Quick checklist for choosing louvre windows
If you've read this, done your research and fallen in love with the beauty of aluminium louvre windows then here's a final checklist to run through before you rush out to buy.
Quality aluminium louvre windows should:
✓ Be available in a wide range of colours in a durable powdercoat finish
✓ Be backed with a good warranty
✓ Come in standard sizes to make life easy when building
✓ Have flyscreen, barrier and 316 stainless steel security solutions to suit
✓ Have a range of glass options available
✓ Be compliant with national standards
✓ Have no visible drainage holes, screws or rivets
✓ Be bushfire certified and rated
✓ Be supplied with factory fitted keylocks
✓ Be compatible with all kinds of building types
✓ Be easy to install and give superior energy efficiency
✓ Be fitted with easy-to-use control-levers and robust seals
Selecting louvre windows for your project
Lourve windows have come a long way since they were invented – the latest innovation in Louvre systems, dual paned louvre windows, is now available from Alusynco Aluminum Systems so you don't have to sacrifice on ventilation or insulation.
Nowadays, finding the ideal aluminium windows to suit your needs is easy as a simple Internet search. While it certainly helps to do your homework, there's nothing like personal support from professional window fitters. If you're based in Ghana be sure to get in touch with the team at Alusynco Aluminum Systems – we're always willing to share our knowledge and you may even decide we're the outfit to help you directly.